W5710 Cedar Ave.
Features:

Sleeps 10
22ft pontoon boat
Modern Kitchen, family room
4 Bedrooms
Gas Fireplace
2 Deluxe Full Baths

Thario House

May 15 through Sept 15
$2400 per week

Fall, Winter & Spring Rate $225 per day.
Prices subject to change without notice.
Thario House
The Thario House is located on the South Shore of Shawano Lake at W5710 Cedar Ave.
There is sleeping room for 10 people, ideal for one or more families who would like to share time together. There are 4 bedrooms - one with a king bed, one queen size bed, one with two double beds, one with one double bed, plus a queen size sofa bed.
For your convenience and comfort, the home is fully equipped with housekeeping facilities which include washer and dryer, dish washer, dishes, flatware, toaster, coffee maker, cooking utensils, microwave, gas grill, AM/FM Stereo, color T.V. with cable and DVD player (just in case the weather is bad and you want to rent a couple of movies for the day). There is no telephone at the home.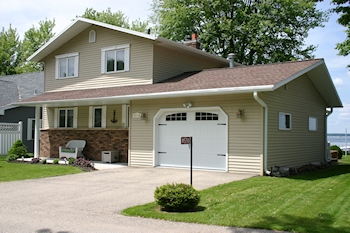 Blankets and pillows are furnished; however, we ask that you bring the following:
1. Sheets & pillowcases, if you wish to use your own; or you may bring sleeping bags for sofa beds. We do have sheets and pillowcases available for all beds, including sofa beds.

2. There are bath towels and dish towels available for your use; however, you may want to bring beach towels for swimming.

3. Soap and all paper products.
When using linens provided, please launder as many as you have time for before leaving as there is very little time for clean up between your departure and the arrival of guests for the next week.
The home and grounds are located on the South Shore, with parking for up to 5 cars. The year-round home is very comfortable with a wood fireplace, modern kitchen, and two deluxe full-size baths. It is fully equipped with housekeeping facilities including washer and dryer, dishes, flatware, toaster, coffee maker, cooking utensils, microwave, dishwasher, bonfire pit, gas grill radio, color TV with cable, and DVD.
The home is on a large waterfront lot on the South Shore of Shawano Lake (approximately 6100 acres of lake). There is a dock, and a 22ft. pontoon boat furnished with a weekly rental (in season). The cottage is just minutes from the City of Shawano that has the "Historic Downtown" and many shopping centers including Pick n' Save, K-Mart, JC Penney, Walgreens & Super Wal-Mart. There are also many restaurants, movie theaters, and numerous other attractions. The Menominee Casino is just 9 miles north of Shawano.
Sorry, no pets allowed. No Smoking inside the house.
For more information, call 1-800-969-2124